Royal Caribbean $80 Million Dollar Renovation Mystery Voyager of The Seas
If you are person that likes to cruise, then you would realise that the battle for the cruisers dollar is well underway with the two heavy weights RCCL Cruise Lines and Carnival Cruise Lines.
On 22nd November, Voyager of the Seas, Australia's biggest megaliner, will sail into her new homeport of Sydney for the very first time. On this same day the luxurious Celebrity Millennium, from sister brand Celebrity Cruises, will depart Sydney bound for Asia. Be there to experience the historic crossover of these two cruise ships in the middle of Sydney Harbour.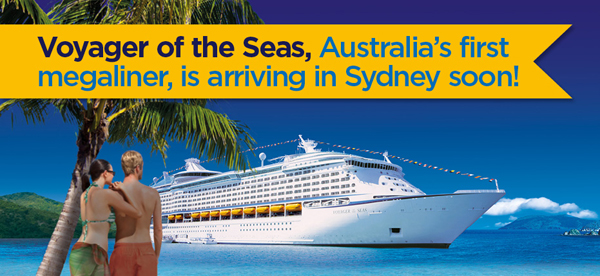 Now honestly Royal Caribbean firmly believe that with their so called $80 million dollar renovation refit, during the maiden Australia to New Zealand 11 day cruise I have to be honest bang for buck it is overstated, over promised and needs massive revaluation.
The best part of this cruise is most of the staff in the bars and restaurants, now in saying that the food is a massive let down compared to Carnival Cruises, it is crude, unimaginative and very repetitive. Then see if you can track down some desirable premium wine and drinks package at $55 to $65 per day, forget it you pay all this money out for everyday you cruise, rip you will not drink for 4 of the days especially in the white wine they need to lift their game, maybe they could start by replacing the F&B manager, no Aussie or Kiwi wines, then its pot luck if you have preferred beer it is a lucky dip. As we continue on our cruise for another 5 days we now realise that Royal Caribbean must of engaged a marketing firm that have the ability of deception that overstate, over promote but the bitter taste of deception will still sit worse in your guts than the Noro Virus you will end up with.
We had 2 rooms sold to us for the cruise, these were interior rooms no windows but we were sold to us with virtual balconies that do not exist they  are a virtual mystery.
Royal Caribbean must step up their act in overall because has more and more Australians venture out to go cruising the choices are many, do you homework well or you will live to tell about your disappointment, in my opinion I would rate this cruise experience as a 5 out of 10.
They state online:
Two of the most exciting state-of-the-art additions are the virtual balcony staterooms and panoramic ocean view staterooms with floor-to-ceiling windows. Enjoy the sights of being at sea with expansive views of the ocean and our exciting destinations – all from the comforts of your stateroom. With staterooms this innovative, you may never want to leave!
When you question them they assure you that they will address this and come back to you, but they don't.
I could go on about so many other areas of major disappointment, but sea travellers do your homework first, and do not travel agencies, my brother said he would book a cruise back through Cruise About, as they tell you a lot lies to get the deal done.
Have your say to day below on this article.