Plan Your Wedding with Lisson Grove Mount Tamborine
Need a relaxing holiday away in the tranquil, picturesque mountains of Tamborine? Lisson Grove Boutique Resort offers the ultimate romantic escape for couples. Lisson Grove specialise in beautiful weddings offering a range of packages. Whether you are planning a serene garden wedding or renewing your vows you will find the perfect package for you and your partner with Lisson Grove Boutique Resort.
Lisson Grove are the multi award winning luxurious Mount Tamborine Resort. You will find the perfect accommodation for you and your wedding guests with self-contained individual Mt Tamborine cottages. Planning your wedding with Lisson Grove couldn't be easier with dinner, drinks and transfers available within your wedding package.
Plan a memorable once in a lifetime wedding, nestled high in the mountains with the breathtaking backdrop over the valley, brought to life by the beautiful sunrises and sunsets. You will feel relaxed and pampered with Lisson Grove Boutique Resort.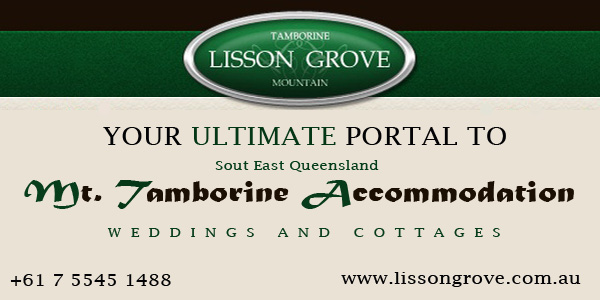 Share your special day with up to 30 or your special friends and family amongst the beautiful gardens and aroma of fresh flowers. Walk down the royal carpet isle towards our charming wedding gazebo surrounded by the majestic sounds of nature. Relax that night in the Castle cottage for royal experience in five star luxury. This picture perfect location makes the ideal first night together as husband and wife.
For the Ultimate Romantic Escape for Couple visit Lisson Grove Boutique Resort and enjoy a fantastic accommodation at Mt Tamborine. Experience the wedding you have always dreamt of with Lisson Grove Mount Tamborine, a little piece of heaven on earth. For a list of affordable accommodation in Gold Coast, call 1300 663 664.