Experience the Healing Power of Bamboo Charcoal Products Australasian Healing Tree
As one of the fastest growing known grasses, Bamboo is one of the world's most sustainable resources with unique properties that are now utilised in the manufacture of fabrics and textiles that are not only eco friendly, but have remarkable healing qualities.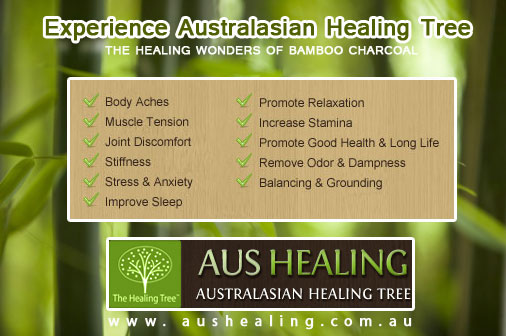 Recently developed processes using nanotechnology have found bamboo charcoal to have unique ability to transfer heat. The bamboo charcoal is created by burning 4 – 5 year old bamboo at 1000 degrees until it is reduced to a fine charcoal. Processed into a soft, breathable polyester fabric,  bamboo charcoal fabric is odour and germ resistant, keeps cool and dry and emits far infra-red radiation which works with the heat in your body to improve blood circulation and ease minor and temporary inflammation, aches and pains.
Bamboo charcoal products offer holistic health benefits in the comfort of your own home with a range of bamboo charcoal mats and blankets. A range of back, elbow and carpal supports can help with pain and discomfort in the office or workplace.
Wearable bamboo charcoal socks, wrist bands, shoulder wraps and gloves can help east joint body aches, stiffness, muscular tension and soreness. The far-infrared rays and negative ions emitted through the bamboo charcoal nano-particles helps improve energy, sleep, weight loss, detoxification, immunity and more.
The Australasian Healing Tree now provides an expanding range of bamboo charcoal fabric products to help increase your quality of life the natural way. Explore the range of innovative, natural and sustainable health products at www.aushealing.com.au and find a non invasive, hypoallergenic, chemical free, healthy healing products.