Local Gold Coast Pool Builders and Brisbane Pool Building Services
Looking for a Pool Builder that will design to your design, build according to your time schedule and work with your budget? Surely that's not too much to ask? The professional team at Casino Pools and Spas understand that a swimming pool is a big investment, and that it should come with the insurance your Pool Builders are going to work with you every step of the way.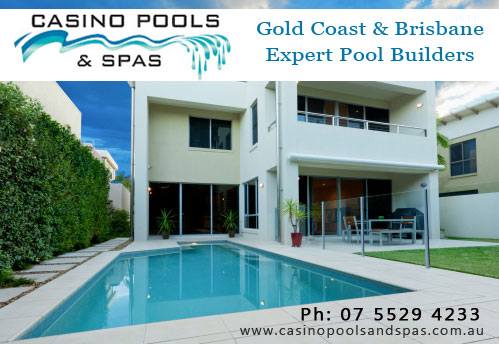 Pool builders that understand your family and your needs are not always easy to find. Casino Pools and Spas take pride in offering a customised pool design and pool installation service that is tailored to you needs, your family, your back yard and existing home design – as well as your budget. Casino Pool Builders want you to get the most out of your money and are happy to sit down with you to realise you swimming pool dreams. Perhaps you are simply looking for a simple, affordable traditional geometric pool for the kids and those hot summer days. Casino Pools and Spas Builders are more than happy to offer their services to you – but perhaps your ideas (and budget) of a geometric pool can in fact include water features or a spa that will not only enhance your home but your lifestyle too. Our guarantee is that you will get more than what you expect from  your initial pool dreams, and more than what you paid for.
If you are looking for pool services contact the local Gold Coast and Brisbane Casino Pools and Spas.
Make the most of your home and backyard with Casino Pools and Spas Builders today. Give us a call on 07 5529 4233 to speak to one of our professional pool builders.