Commander Phones Destroy Business Read This Before Signing Up With Australia's Worst Phone Company
Commander Phones have destroyed my business in under 3 weeks, Nearly three weeks ago I contacted Commander Phones my Telephone provider and advised them that I need my telephone lines relocated to my new business address in Burleigh Heads they quoted me approximately 10 days to complete the task. Well we are at week three and despite numerous calls to their support team which is offshore somewhere, I know this because you can't understand them on the phone. I would say Philippines which is now confirmed.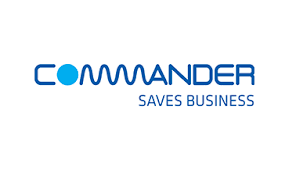 This logo above should read Commander Phones Destroys Business
They told me after 10 days they could not action my transfer request because my lines would be at another exchange and all my 100 in dial range would have to be changed, I said why is this problem and stated are you serious? I don't care that's why I rent all the 1300 numbers of you so it does not matter where my lines or where the exchange sits. And why didn't you call me to discuss this earlier? I got told that is was being handled by another team the provisioning team. i said I don't care you should have called me as soon as you thought there was an issue or problem. But they refused to recognise my concerns and kept talking over me. I became very irate an quite fired up and the more they talked the worse I got.
Eventually some not over intelligent support operator said oh really you have 1300 numbers they ca sit over any number I said yes that is correct I said please stop stuffing my lines up and get my system transferred please I need them up and going as I run a pay per lead business and if my phones go down I will not get calls in and every call I don't get I tear up $44 to $88 per lead. Last Friday I was in tears to a customer support agent begging her to at least get all my 1300 numbers from my websites diverted to my mobile. Today is Wednesday 26th of November 2014 at 7.33pm EST and if you call any of my 1300 pay per lead numbers all you get is a line busy signal. I can't afford this to be happening mentally or financially. The brain lymphoma sickness has cost me and my family our family home which we loved in Varsity Lakes it is the home we brought our babies home to. Our youngest was born in John Flynn at the same time I was in John Flynn I was wheeled in to the delivery room the day our baby boy was born on May 15 2014, my wife was so stressed but remained strong for the sake of us and our children.
I am a hard working family man with 5 children that has run a website design and SEO business since 1999, earlier this year I was rushed to hospital emergency care on Anzac Day with either acute coronory syndrome or possible stroke, I spent 2 days in Pindara then transferred to John Flynn for just on 3 months I remained bed ridden and was treated, diagnosed and misdiagnosed with a stroke, MS, encephalitis, then after more than a dozen MRI's cat scans 5 lumbar punctures, massive amounts of steroids and immunoglobulin iv's I was still very ill getting worse and sicker every day.  After all this failed the specialists decided to transfer me to St Andrews Hospital Brisbane for further care because I could not walk, talk, feed myself or stop shaking.
My specialist was a Professor Pamela McCombe a neurologist who decided to have brain biopsy carried out, the results of this were confirmed as B Cell Lymphoma of my Central Nervous System. When I left hospital I had lost 25 kilos could barely walk and very weak. Professor Pamela McCombe was not keen to treat me at first because she did not hold high hopes for me but when she knew that 3 of my 5 children were all under 5 she took me on as her patient. I am still under her care and a  haematologist Dr Greg Seeley. I have had numerous tests, full radio active body scans to see how my condition is going, every visit to him is streesful the last visit I failed to attend because of the results plus no money left to pay for visit. I know I am getting worse as I have less energy day by day and it scares me to hell to see that i won't be around for my babies in the near future. I was meant to have a heart operation in September as well because my heart gave out in the intensive care recovery room after my brain biopsy operation, but I had to put this off at the moment because I cant afford our hospital cover at $300 per month and it has lapsed.
So you are probably thinking what in the hell does this have to do with Commander M2 phone company? Plenty they have just about destroyed me with stress and my business because no phones no leads no money but still need to pay staff rent and overheads oh and phone bills. After relocating to a rental property and renting a new office premises and relocating everything I am drained by the bad service from Commander M2 yet they bill me approx. $800 every month yet in less than 2 weeks they can put the last nails in my business coffin. Every time I call, I get transferred to other people that cant speak or understand  English, and what is worse you get put on hold fro 30 minutes to 1 hour 47 minutes last Friday. I have called Commander more than 50 times in the past week alone and still no phone lines active or even a diversion of all my 1300 numbers to my mobile. I am facing the reality of closing the doors of 15 years now because I am paying staff that cant work and no leads coming in so no income yet Commander M2 phones will still attempt to send me accounts and hod me to a contract, well my answer to Commander business phones is screw you Commander M2 you are a shit company and should be closed down for sabotage of a business. I strongly urge anybody that is considering Commander to call me first on 1300 663 664 and talk to me first. Commander will promise you to service and support to get your business and then fail you down the track. You only need to read all the negative Commander M2 reviews on Whirlpool and many other review sites. I am not an isolated customer with issues I am just a customer that is trying to keep a roof over my families head and food on the table, I am selling everything I own personally to survive, my stamps my grandfather left to me, my jewellery, memorabilia and even cutting my service fees just to cover basic wages. My  family and friends have helped out with moving us and some expenses a long term client and father figure witnessed the stress and desperation on my face the other day and he said mate are you okay and I said know I am not I know my health is getting worse I have been given a time line to live if chemo fails, but I will not take chemo. I have no money after 4 months in hospital my business of 15 years shrunk because clients became worried about the stability many left because they became worried that I would be to sick to look after them.
Sure Commander M2 cant be held responsible for my sickness but they can and should be held responsible for the stress that is causing my health to decline because of this etc. Finally tonight I rang after hours and got an Australian guy called Sam and he bent over backwards to action a diversion within 15 minutes and called me back to test all 4 main diverted numbers. I asked him why did it take him 15 minutes when all the rest failed and what makes things worse is this little smart arse from the Philippines was so rude to me on Monday and he said it will take 24 hours to kick in as the system needed to refresh for the diversions to work this was more lies because 48 hours latter still nothing until 8pm tonight, thank you Sam. Mind you he is talking to an IT savy person.
I feel sorry for people like Sam working in a position surrounded by lazy lying incompitent customer support people. He did something in 15 minutes that I was promised would and should have been done on Friday last week.
I am  now going to continue to post my story online, I believe Justin Armsden from A Current Affair is happy to run a story on this. Terminally ill father of 5 looses it all because his business is shut down due to poor communication, service and support from Commander M2, I have already lodged a complaint with TIO Ombudsman today and he got this escalated from 10 days to 2 days response.  Unfortunately another 2 days with no leads or contact would cost me an addition $2000 in lost pay per lead revenue.  I would estimate that I have lost well over $3000 since Friday, plus staff wages for 4 staff not being able to do their job because no phones that is another loss of  approx $2000.
All Commander M2 staff say is we are working on the problem and I need to remain calm and more patient, so what do I say to my staff sorry can't pay you this week no leads no money but have I will pay you off down the track best I can do but you need to remain patient. Yeah right I know what they will say. Maybe Commander M2 will show me patience when I cant afford to pay their monthly accounts. I am going to sign off on moving back to Telstra before the week ends, they just said what has happened to my financially plus the stress I have gone through all the time wasted on phone calls and writing about Commander M2 and the shit service they provide.
Paul Klerck, very sick and tired in health and with dodgy phone companies like Commander M2.