SEO That Works SEO Furnace Google SEO Tool Start Ranking On Google Fast
SEO Furnace is one of the fastest and most rewarding ways to gain exposure to your business, products or services, and what makes it so great it is really affordable compared to other SEO methods and systems.
Increase you business turnover by increasing your Google top 10 results.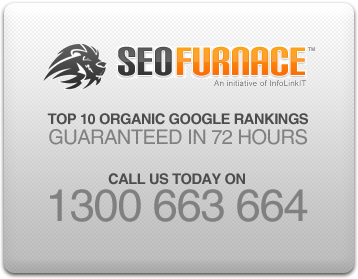 "SEO Furnace will work when all else has failed"
If you reading this document, the chances are that you are serious about generating more leads and business from your website. SEO Furnace is the perfect and most affordable way to push your products and or services out to your potential customers. "And your positioning is guaranteed"
The best way to describe SEO Furnace is having hundreds or even thousands of additional pages indexed in to Google for relevant search terms, the problem with a lot of websites today is lack of exposure we bypassed this problem. If you have a 10 page website online the chances are Google will only index 10 pages if you have good quality SEO multiply this by the power of 3, so you will be found for potentially 30 Google search results now imagine if you were generating business and leads from 30 potential positions. Now lets get serious what if there was a way you could have 10,000 or even 20,000 indexed Google positions now your talking, you are firing up your leads and business potential. More exposure equals more business opportunities. The key to winning online is to take all the business by taking out your competition online.
Here is what some of our clients SEO Furnace clients already say:
Dave Adams Flexico iCoat Qld states: SEO Furnace is a awesome, seriously Hollywood when it comes to SEO. Within 2 to 3 weeks of SEO Furnace been activated it was like turning the lights on in my business I saw the light. The leads started to come in and they have not stopped each week there is more and more. To be honest I am chasing my tail to get the abundance of leads serviced. Paul Klerck is a brilliant SEO and although I thought investing nearly $xxxxx was a huge risk to begin Paul has saved me thousands on traditional magazine, radio and newspaper advertising. At first I was not excited about investing that type of money on something I could not see or touch, but Paul said trust me SEO Furnace will become the best business asset you will or could invest in.
We have reduced our massive monthly print advertising in BMag and the newspapers cost down from $18,000 to nothing this was not working really well anyway. The guys from InfoLink IT had previously developed my local website, but when they came and demonstrated the potential of SEO Furnace I thought why not my website is working really well so if I could gain more leads and potential business by using this style of advertising I should give it a try. To date the results are amazing the leads keep coming in and the sales keep growing. I have no hesitation in recommending SEO Furnace to any person in business today. Dave Adams Flexico Qld Phone: (07) 5527 2012. https://www.google.com.au/#q=site:floorcoats.com.au
24,600 pages indexed in Google. If you want to know more about my success then call me a slong as you are not a floor coating busines"Dave Adams on 0428 593 344" I love SEO Furnace.
Alan Collin Force 10 Homes says: I love SEO Furnace a total blessing it has helped Force 10 Homes gain more online exposure for what we do and sell and move our competitors out of the top spots on Google.
Before SEO Furnace we could not get found for any relevant search terms on Google our competition was dominating us. Paul Klerck from InfoLink IT demonstrated SEO Furnace to our board. They approved it instantly and as a company we have not looked back. I have no hesitation or reservations in recommending this great online marketing program to anyone or business that is serious about generating more quality leads and sales. InfoLink IT have certainly created the ultimate business growth tool. Alan Collins Force 10 Homes Phone (07) 3716 2002.
Tony Christian South East Queensland Insurance Group Ph 1300 849703: Before InfoLink IT and SEO Furnace I had no idea that the Internet could be so powerful but after a 2 hour consultation Paul Klerck convinced me that the greater my exposure the greater chance of doing more business even in competitive market places like insurance.
The rest speaks for itself, if I had not experienced such great results to date even in a slow business period I would of never believed it. Paul demonstrated the power in front of my own eyes, I thought he had created some type of magic when I saw results in less than 10 minutes. He is brilliant and I have to say I have dealt with some smooth talkers before but to actually witness instant results sent shivers of excitement down my spine. I love his style his motivation and his passion. If you are not dealing with him you are not dealing with the best. Phone me if you doubt Paul and his ability he is a ranking Guru. Tony Christian South East Queensland Insurance Group Ph 1300 849703:
CUCKOO CLOCK NEST SEO Furnace = online sales explosion, you may or may not believe this but we sell a lot of clocks all over Australia, but when InfoLink developed our nee e-commerce site and ranked it on Google we sold more then Paul came and saw us with his SEO Furnace and said let me build your online exposure and drive more traffic. He discussed a proposal with us. At first dad was a little skeptical andn a friend in IT doubted it but I made the final decision to trust Paul and move ahead with www.germanclocks.com.au with his SEO Furnace program. Shit, shit, shit it has been amazing it has paid itself off over and over again we even thought at first the monthly ongoing of $xxxx of $xxxxx was way more money than we wanted to commit to our online strategy but now we are up and running I am working with Paul to create another SEO Furnace program. I can honestly say our sales have increased by more than 600% in retail and wholesale. Phone me Anton Schafroth on 07 5545 1334 for any reference on Paul and SEO Furnace.